Feedback and/or contributions to make this better are appreciated and welcome
For those interested, there was also a technical article posted over the weekend: SSH Service: How to set it up in Backtrack without getting pwned
Remember, sometimes the funny section has some food for thought 🙂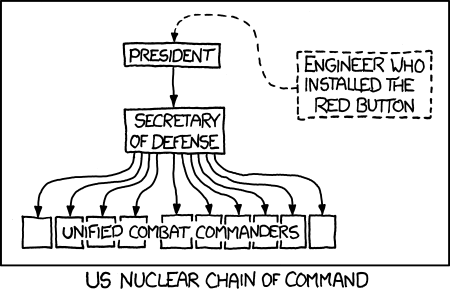 Highlighted quotes of the week:
'"You have won the lottery. Open attached PDF file. Is safe and free from virus" – I don't think so – *delete"' – Brian Honan
"PCI DSS: proving compliance != security since 2008" – Steve Lord
"Just had an email about information collection and DPA type stuff, she CC'ed 780 people on the mail – #DPAFail" – Robin Wood
"How can you avoid being hacked by APT when you can't even avoid being hacked by accident (mass malware)" – Dan Guido at Source Boston
"relying on statistics and well wishes won't protect you when wolves come to your door. There is a concept of too late, and you should know it" – Pinvoke
"when I crack someones password and it is a mobile number I'm tempted to call it and say 'Hi, this is your password calling'" – Robin Wood
"Probably best time ever to become a CISO at Sony. Never will have more attention and top level buy in for security than right now" – David Rook
"I really wonder how many of these internal auditors could really hack an SAP or ERP system…" – Josh Abraham
'The main driver to go to the "cloud" is not technical but a business decision!' – #ISACA
'CFO's see only the cost reductions when moving to the cloud!' – #ISACA
"while true; do wget -o /dev/null -O – http://tinyurl.com/ybecxez|sha1sum|grep -q 9d0621; test "$?" = "1" && echo "BT5 live"; sleep 5; done" – Xavier Mertens
"Never assume that a tutorial is too basic for you, there are always gems of into to be found even in basic stuff" – Robin Wood
'"WebGL – A New Dimension for Browser Exploitation" http://bit.ly/mxuJo6 < HTML5 haxoring continues to improve like we knew it would' – Jeremiah Grossman
"… HTTPOnly flag for preventing JS to access cookies, can be circumvented by using HTML5 attacks…" – #SCS
"So CSP is useless against xss protection if a site uses google analytics :(" – Gareth Heyes
"Hashing passwords in your database is like ASLR: Neat tech, stops some attackers, but if someone's in that deep it's just too late" – Dan Kaminsky
"There are two hard problems in computer science: cache invalidation, naming things, and off-by-one errors." – David Ulevitch
"Facebook is getting a tonne of press at the minute while some other VERY popular membership sites don't use https & send passwords in clear" – The Suggmeister
"Gov (and defense contractors) pay 50-100k for exploitable flaws. Google and Mozilla bounties are just beer money." – Christopher Soghoian
To view the full security news for this week please click here (Divided in categories, There is a category index at the top): The categories this week include (please click to go directly to what you care about): Hacking Incidents / Cybercrime, Unpatched vulnerabilities, Software Updates, Business Case for Security, Web Technologies, Network security, Database Security, Cloud Security, Mobile Security, Privacy / Human rights, General, Funny
Highlighted news items of the week (No categories):
Not patched: Disable WebGL now, researchers warn, Silently Pwning Protected-Mode IE9 and Innocent Windows Applications
Updated/Patched: May 2011 Microsoft Black Tuesday Overview, Security update available for Adobe Flash Player, Apache HTTP Server update fixes remote DoS issue – Update, Confusion over Skype for Mac security issue – Update, Exim 4.76 RC1 uploaded, HP/Palm webOS, Execution of Arbitrary Code, Denial of Service (DoS), Unauthorized File System Write Access, Patch for BIND 9.8.0 DoS Vulnerability, weblabyrinth, IIS7 Header Block Released, Exchange Log Analyzer, logstash, Presenting… the Microsoft Safety Scanner
Cloud Security highlights of the week
Mobile Security highlights of the week
Secure Network Administration highlights of the week
Secure Development highlights of the week
Microsoft said something really NEAT  [fuzzyaliens.com]
Finally, I leave you with the secure development featured article of the week courtesy of OWASP (Development Guide Series):
OWASP-0300 Session Management (continued)
Architectural Goals
Things Not To Do
Applications should NOT use as variables any user personal information (user name, password, home address, etc.).
Highly protected applications should not implement mechanisms that make automated requests to prevent session timeouts.
Highly protected applications should not implement "remember me" functionality.
Highly protected applications should not use URL rewriting to maintain state when cookies are turned off on the client.
Applications should NOT use session identifiers for encrypted HTTPS transport that have once been used over HTTP.
Use Only the Framework's Session Manager
The ability to restrict and maintain user actions within unique sessions is critical to web security. Most users of this guide will be using an application framework with built in session management capabilities. Others will use languages such as Perl CGI that do not. Those without a built in session management system and those who override the existing session management systems are at an immediate disadvantage. Implementations built from scratch are often weak and breakable. Developers are strongly discouraged from implementing their own Session Management. Leading web frameworks have undergone rounds of testing and fixing that leave them using secure methods of token generation. There is no value in re-writing such basic building blocks.
In spite of the maturity of many of these frameworks, research continues into making them more secure. Therefore, application developers and web masters must maintain the latest versions and patches to application frameworks to ensure that the newest and most secure version is in use.
Source: link
Have a great weekend.